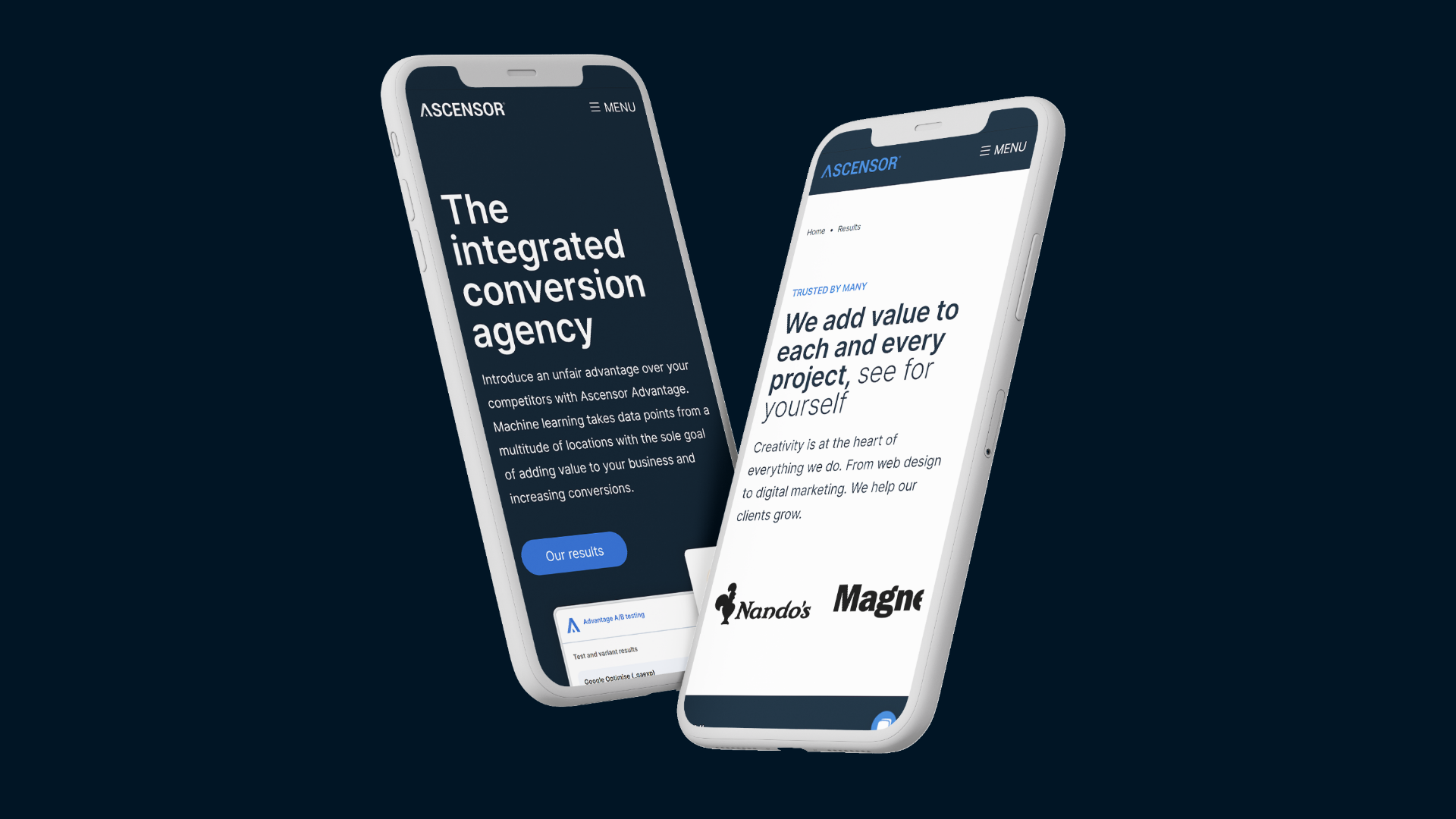 Welcome to Ascensor's next chapter.
As The Integrated Conversion Agency we're constantly evolving, and to mark our 15th birthday we've been busy working on something exceptional.
Our proposition is fully focused on conversion, and to show we mean business, we've launched Ascensor.com alongside an incredible new competitor analysis and strategy tool.
We've productised the tools, tactics and techniques that we use to drive sales and leads for our customers to create 'Ascensor Advantage', complete with a limited-feature Chrome extension that lets us compare A/B variants in real time and spy on competitor activity.
Advantage uses machine learning and takes data points from a multitude of locations to add value to your business and, ultimately, increase conversions.
Put simply, it's all about giving you an unfair advantage over your competitors.
A new site, a renewed focus
Ascensor launched with a .co.uk address in 2007, but earlier this year we acquired the ascensor.com domain - and as part of our 15th anniversary celebrations we've also developed an all-new website that represents everything we offer to our clients.
Being 'integrated' means that we look after the full customer journey, from traffic acquisition through to engagement and conversion.
Our department use data science, competitor monitoring and machine learning to build and evolve user experience, all focused on one thing – conversions.
Commenting on the new site and our new proposition managing director Andrew Firth said: "It's all about our focus on helping businesses to convert, whether that's sales or leads, it's about delivering a result.
"Where we get the opportunity to really drive growth, that's what gets us all ticking. That's what our new website frames for us - our focus on using proprietary Ascensor Advantage software to help our clients gain a competitive advantage."
Our journey's on the wall
To mark the 15th anniversary we've also worked with well-known street artist Andy McVeigh, aka Burley Banksy, to create a wall mural that's a visual reflection of our journey so far.
The piece depicts key events in Ascensor's history including acquisitions, award wins, our ISO accreditations and our first home in Batley.
Featuring landmark buildings from the Leeds city skyline, including our neighbours Leeds United, Bridgewater Place and the Town Hall, the artwork greets visitors into our meeting space.
Andrew Firth continued: "I wanted a piece of creative on the wall that stops me when I walk by, to reflect, and celebrate us, and what we've achieved so far.
"The whole point of our abstract piece is that it needs explaining, if you know you know, and when you've been there, you know!"
After 15 extraordinary years of building a strong, talented team of digital specialists and maximising conversions for our clients, we're now fully focused and equipped for the future.
Looking to gain an advantage? We can help.
Whatever a conversion means to you, we'll help you grow. From SEO to CRO and social media strategy, we'll help you succeed in all aspects of your digital marketing.
Get in touch and let's grow your business.
Was this post helpful? Help other by sharing it